Circular Traceability
At Kotn, we believe that traceability—the knowledge of where a product came from, who made it, how, and when—shouldn't be a luxury, but a standard. That's why we built Kotn from the ground up, working directly with every step of our supply chain, starting with the raw cotton.

Think of it like farm-to-table, but for your clothes.
Start Chapter 1 →
Circular Traceability
At Kotn, we believe that traceability—the knowledge of where a product came from, who made it, how, and when—shouldn't be a luxury, but a standard.
Play the video
Start Chapter 1 →
Chapter 1:
Farming
It all starts in Egypt—a land where the nutrient-rich soil, sunny skies, and consistent high humidity create the perfect environment for cotton growth, or what Egyptians call, "white gold."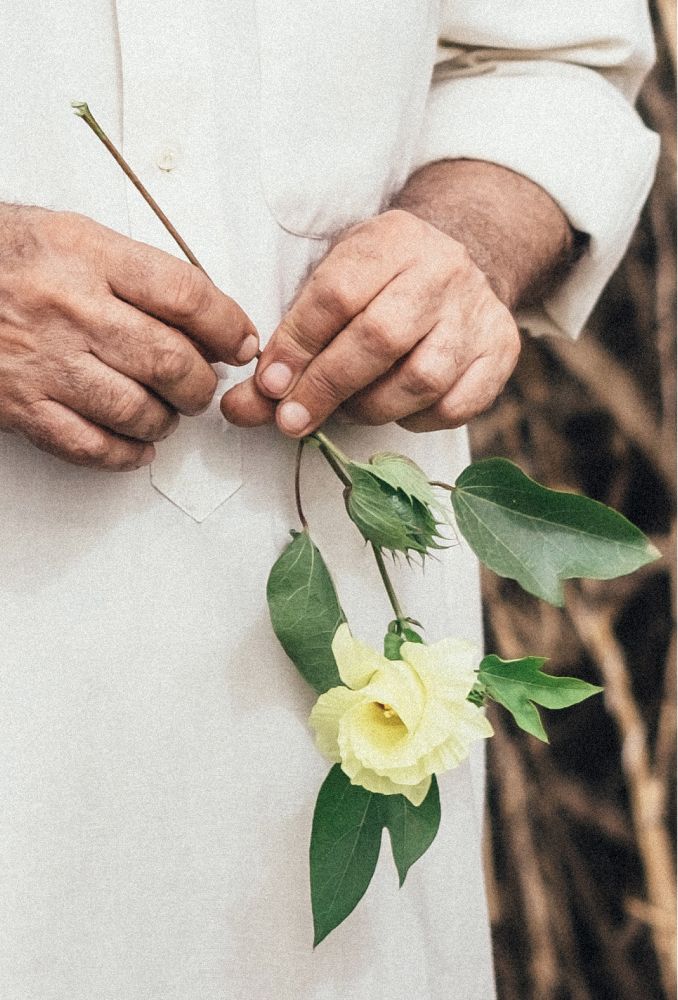 We only use the strongest, longest and silkiest authentic Egyptian cotton to create our knitwear collection. It's called Giza 94.
Hussein—one of our farmers in Faiyum, Egypt.
Nile Delta
Where the Nile splits in two and feeds into the Mediterranean. Working with small family-run farms (think half an acre in size), this is where all of the cotton for our knitwear and woven tops is grown.
Faiyum
Positioned in between the Nile and an oasis, which creates fertile land, the city of Faiyum is the 6th oldest city in the world, originally settled around 4000BC for its prolific soil. This is where we grow the cotton for our woven bottoms.
Cotton, like gold, is a commodity that fluctuates in value, so we bypass the use of traditional middlemen to ensure best business practices and guaranteed pricing (which equated to 35% above market pay last season).
The Nile has been the lifeline of civilization since ancient Egyptian times—most historic sites can be found near its banks. To this day, the majority of Egypt's population lives in close proximity to the river, which feeds the fertile land surrounding it.
690
The number of smallholder
cotton farms we work with
directly.
We work hand-in-hand with the farmers to understand their changing needs, providing them with subsidies like fertilizer and agricultural consultants. This past season, these subsidies helped to lower the average farmer's costs by an average of 28%.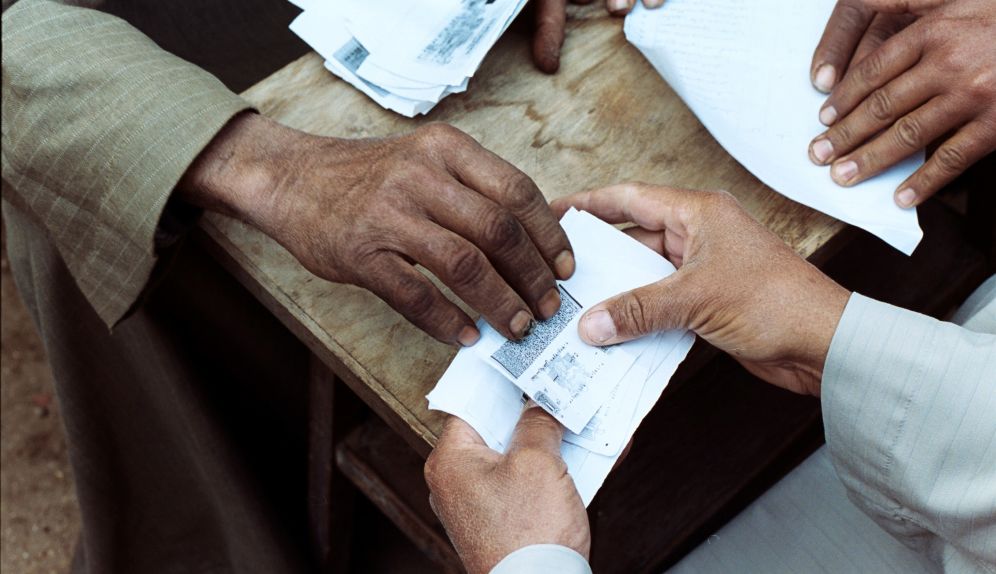 The farmers show up to claim their subsidies with a valid government ID. Since many of the men are illiterate, they use their fingerprints in place of a signature.
Chapter 2:
Yarn Milling
From the farms, our raw cotton is taken in large bails to yarn mills in Alexandria and Mounifia. Here, the cotton bolls are cleaned, carded—a process of sorting and lining up fibres—and coiled into thick ropes, which are then stretched and spun into finer and finer strands that result in our yarns.
Cotton fibres pressed into large cubes after being combed and carded at our knit yarn mill.
Location: Borg el Arab, Egypt
The state of the art yarn facility that mills the yarns for our knit fabrics was founded in 2006. It is ISO 9001 and Business Social Compliance Initiative (BSCI) certified, and offers employee benefits, bonuses, complimentary transportation, and daily team meals.
400
The radius in km that all our
farmers and factories are
located within.
Chapter 3:
Fabric Milling
After the yarns are spun onto spools they are woven or knit into large rolls of fabric. We work in partnership with responsibly-run fabric mills in the region that specialize in either knitting or weaving techniques.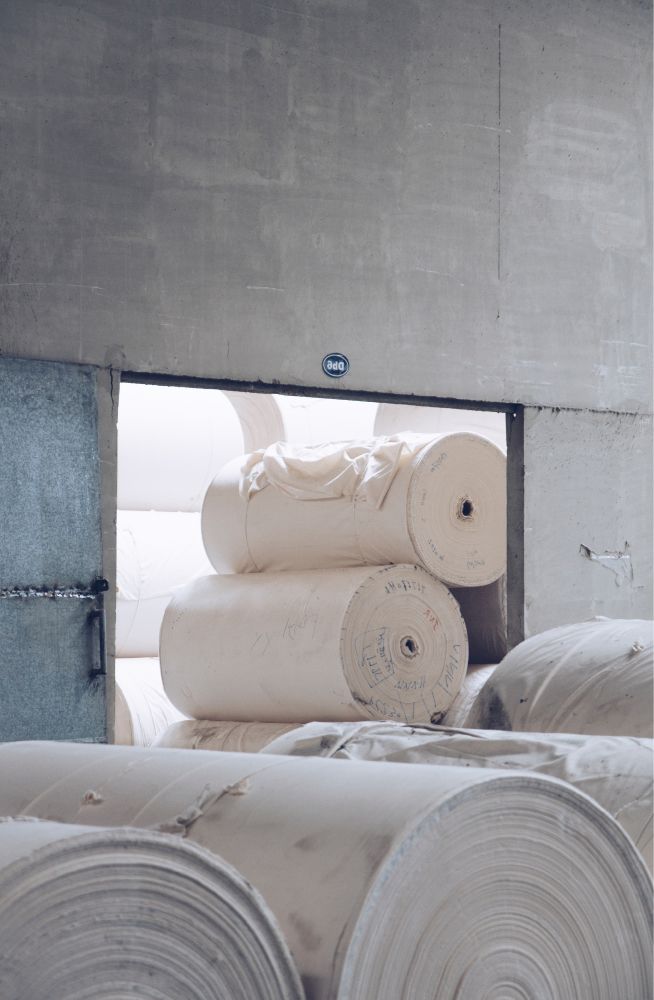 A closeup of our T-shirt fabric—a buttery soft 30/1 jersey made of 100% Egyptian cotton.
Location: Alexandria, Egypt
At this family-run facility in Alexandria, Egypt, the knitting process is completed by machine. Using a circular knitting technique, different thicknesses of yarns are stitched together into a tubular fabric, creating a variety of textures, weights, and styles of fabric, including flat jerseys, ribs, terrycloths, and piqués.
3790
The number of people employed by the factory that creates the fabrics for our woven bottoms—coming soon.
Marzouk, Weaving Technician at our weaving facility in Alexandria.
Location: El Sadat City, Egypt
Supplying all of our flat fabrics for woven bottoms, this factory manages the entire production stack from milling, dyeing and weaving. With 40 years of textile experience, this family-owned business was founded in Aleppo, Syria, and is now based in Egypt and Turkey. They promote a supportive, inclusive working environment, prioritizing environmental practices and their employees' health and safety.
Chapter 4:
Dyeing
After the fabrics are knit or woven, they are dyed from the unfinished greige tone of the natural cotton to our core and seasonal colours.
How our Woven Bottom
Dye House Saves Water
1. Treating wastewater effectively
Starting by conducting effluent purification in wastewater treatment through a purpose-built biological treatment plant, the quality of the wastewater discharged is monitored internally, verified by independent laboratories to meet or exceed legal requirements.
2. Saving water in fabric dyeing and finishing
They have steadily decreased the volume of water used in fabric dyeing by adding multiple water-efficient rope dyeing lines, and updating and automating the lines for fabric finishing.
3. Caustic Recovery Plant (CRP)
Their CRP recovers used caustic soda from the mercerizing wastewater for reuse in production. For things like heating water, saving natural gas, and recapturing the water evaporated from the CRP to reuse it in the mercerizing machine.
Location: El Sadat City, Egypt
The dyehouse that handles all of our knit fabrics is a family business established over a century ago in Egypt, specializing in the pretreatment, dyeing, printing and finishing of both woven and knitted fabrics.

The facility is ISO 9001, 14001 and OHSAS 18001 certified for its occupational health and safety and environmental initiatives, and all dyes used are OEKO-TEX® non-toxic certified—meaning safe for you and the earth.
6000
The number of cubic meters of water per day that is purified at our knit dye house. This is the largest biological wastewater processing and treatment plant in the Egyptian textile industry.
Chapter 5:
Cut & Sew
Where the garment comes to life. At the cut & sew factory we create a series of prototypes before finalizing the design and fit and moving into the production of the finished piece. Trims are added and the collection is packed and shipped to our warehouse in Toronto, Canada.
Salma, Dina and Nagat, sisters and skilled machine operators at the cut & sew facility in Alexandria.
Location: Amreya, Alexandria, Egypt
A husband and wife owned and operated business whose name translates to "hope," our cut-and-sew facility for our knit program believes in fair and equal opportunity for all. Their average employee retention rate of 11 years proves that commitment.
Ali, Pattern Cutter at the cut & sew facility, placing pattern pieces onto sheets of fabric.
Location: Shobra, Cairo, Egypt
The cut & sew facility that makes our woven pants specializes in chinos. Dedicated to the fair treatment of their employees, they provide benefits like transportation to and from work—counting those towards their daily paid hours—daily breakfast, and team building activities like post-work ping pong tournaments.
Sherif, a Cutting Trainee at our cut-and-sew facility in Alexandria
Location: Downtown, Alexandria, Egypt
Established in 1935, our woven top factory began producing galabeyas, a traditional Egyptian garment. The facility has worked with some employees for more than 40 years, offering programs like vocational training for at-risk youth.
Chapter 6:
Distribution
From Egypt, our product is shipped to our warehouse in Toronto where our HQ is based. The products are then distributed to our stores in Toronto and Vancouver or sent directly to you.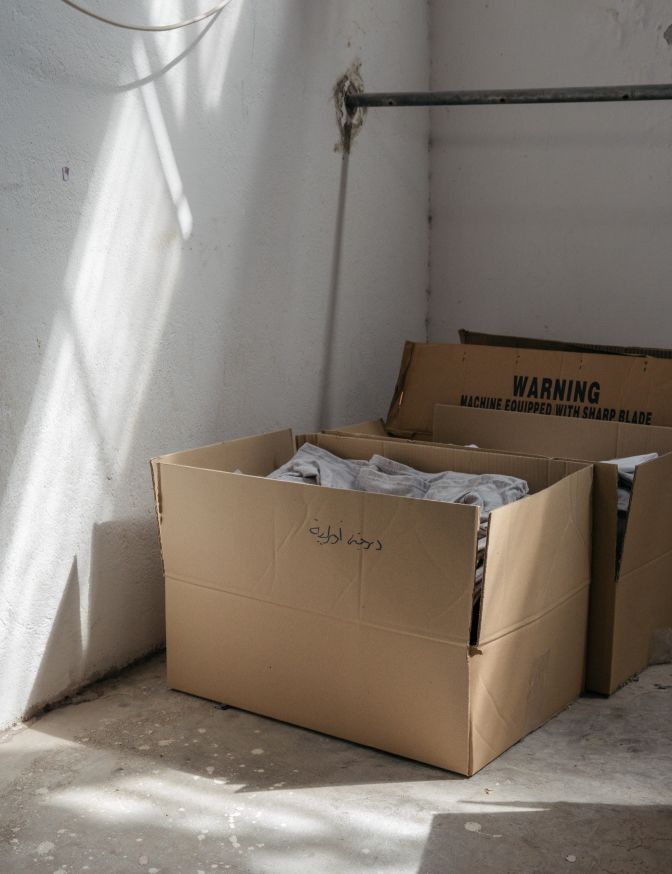 Our in-store and e-commerce packaging are made from recycled or regenerative fibres and are 100% recyclable, printed with water-based ink and assembled with biodegradable adhesives.
2/3
the amount of traditional markup that
we were able to remove from our
costs by using direct trade practices
Chapter 7:
Building Schools
Since inception, we've collected a portion from every sale, plus additional revenue from special projects, to reinvest into our farming communities to improve literacy rates and decrease instances of child labour and marriage. With your help, we have now funded seven elementary schools in the Nile Delta and Faiyum.
1,044
The number of children born in
rural Egypt every day that don't
have access to education
Location: Nile Delta, Egypt
Our mission in improving literacy rates is that in the future the children of these farming communities can help modernize their family businesses, helping to revitalize local industries like Egyptian cotton and help lift their communities out of poverty.
5
The number of schools we've
funded with your help. Two are
operational and two are currently
under construction, with one more
on its way.